COUNTRY INFORMATION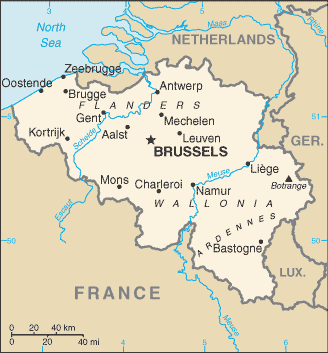 Official name
Kingdom of Belgium
Capital
Brussels
Coordinates
50°50' N, 4°00' E
Location
Belgium is located in Western Europe and shares borders with the North Sea and the Netherlands on the north, Germany and Luxembourg on the east, and France on the west.
Area
Total area: 30 528 sq km
Land area: 30 278 sq km
Water area: 250 sq km
Land boundaries
1 358 km
Coastline
66.5 km
Administrative division
Belgium is divided into 3 regions: Flanders, Wallonia and Brussels.
Political system
Belgium is a federal parliamentary democracy under a constitutional monarchy. Monarch is the chief of state. Monarchy is hereditary. Prime Minister, who is the head of government, is appointed by the monarch (usually, the leader of the majority party) and approved by Parliament. Parliament is bicameral and consists of the Senate (71 seats) and the Chamber of Deputies (150 seats).
Population
10 403 951
Ethnic groups
Flemish 58%, Walloon 31%, other 11%
Religions
Roman Catholic 75%, other 25%