COUNTRY INFORMATION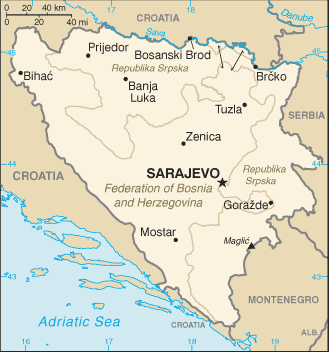 Official name
Bosnia and Herzegovina
Capital
Sarajevo
Coordinates
44°00' N, 18°00' E
Location
Bosnia and Herzegovina is located on the Balkan Peninsula, in Southeastern Europe and shares borders with Croatia on the west and on the north, with Serbia on the east, and with Montenegro on the southeast.
Area
Total area: 51 209 sq km
Land area: 51 197 sq km
Water area: 12 sq km
Land boundaries
1 538 km
Coastline
20 km
Administrative division
Bosnia and Herzegovina is divided into 2 first-order administrative divisions and 1 internationally supervised district. The country is further divided into cantons which are subdivided into municipalities.
Political system
Bosnia and Herzegovina has more complicated political system than other European countries. It has a three-member presidency (Bosniak, Serb, Croat) elected directly by the people for a four-year term. The chairmanship rotates every eight months. Chairman is the chief of state. Prime Minister is nominated by the Presidency and then approved by the House of Representatives. Parliamentary Assembly is bicameral and consists of the House of Representatives (42 seats) and the House of Peoples (15 seats).
Population
4 590 310
Ethnic groups
Bosniak 48%, Serb 37%, Croat 14%, other 1%
Religions
Muslim 40%, Orthodox 31%, Roman Catholic 15%, other 14%