COUNTRY INFORMATION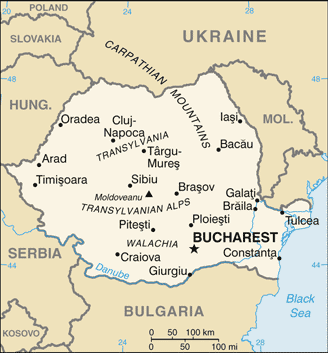 Official name
Romania
Capital
Bucharest
Coordinates
46°00' N, 25°00' E
Location
Romania is located in Southeastern Europe and shares borders with Moldova on the west, Ukraine on the north and on the west, Bulgaria on the south, Serbia and Hungary on the east.
Area
Total area: 237 500 sq km
Land area: 230 340 sq km
Water area: 7 160 sq km
Land boundaries
2 058 km
Coastline
225 km
Administrative division
Romania is divided into 41 counties and 1 municipality.
Political system
Romania is a republic. President is the chief of state and is elected by popular vote for a five-year term. Prime Minister, the head of government, is appointed by the President and approved by the Parliament. Parliament (

Parlament

) is bicameral and consists of the Senate (

Senat

) with 137 members and the Chamber of Deputies (

Camera Deputatilor

) with 334 members.
Population
22 215 421
Ethnic groups
Romanian 89%, Hungarian 7%, Roma 2%, other 2%
Religions
Eastern Orthodox 87%, Protestant 7%, Roman Catholic 5%, other 2%