COUNTRY INFORMATION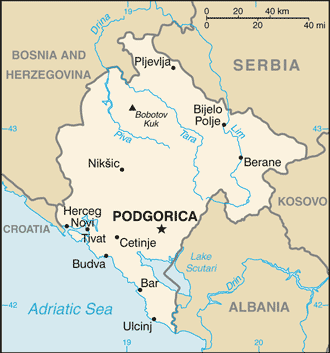 Official name
Montenegro
Capital
Podgorica
Coordinates
42°30' N, 19°18' E
Location
Montenegro is located in Southeastern Europe and shares borders with Croatia on the west, Bosnia and Herzegovina on the northwest, Serbia on the northeast, Kosovo on the east and Albania on the southeast.
Area
Total area: 14 026 sq km
Land area: 13 812 sq km
Water area: 214 sq km
Land boundaries
625 km
Coastline
293 km
Administrative division
Montenegro is divided into 21 municipalities.
Political system
Montenegro is a republic. President is the chief of state and is elected by direct vote for a five-year term. Prime Minister, the head of government, is proposed by the President and approved by the Parliament. Parliament, the Assembly, is unicameral and has 81 seats.
Population
672 180
Ethnic groups
Montenegrin 43%, Serbian 32%, Bosniak 8%, Albanian 5%, other 12%
Religions
Orthodox 74%, Muslim 18%, Catholic 3%, other 5%