COUNTRY INFORMATION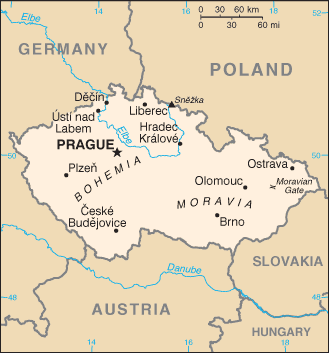 Official name
The Czech Republic
Capital
Prague
Coordinates
49°45' N, 15°30' E
Location
The Czech Republic is located in Central Europe and shares borders with Germany on the west, Poland on the northeast, Slovakia on the southeast and Austria on the south.
Area
Total area: 78 866 sq km
Land area: 77 276 sq km
Water area: 1 590 sq km
Land boundaries
1 881 km
Coastline
0 km
Administrative division
The Czech Republic is divided into 13 regions (

kraje

) and one the capital city of Prague.
Political system
The Czech Republic is a parliamentary representative democracy. President is the chief of state and is elected by a joint session of the Parliament for a five-year term. Prime Minister is the head of government. The Parliament is bicameral and consist of the Chamber of Deputies (200 seats) and the Senate (81 seats).
Population
10 424 926
Ethnic groups
Czech 90%, Moravian 4%, Slovak 2%, other 4%
Religions
Roman Catholic 27%, Protestant 2%, other 65%