COUNTRY INFORMATION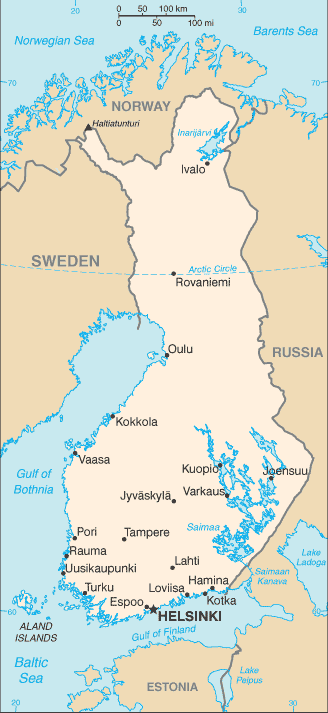 Official name
Republic of Finland
Capital
Helsinki
Coordinates
64°00' N, 26°00' E
Location
Finland is located in Northern Europe and shares borders with Sweden on the west, Norway on the north and Russia on the east.
Area
Total area: 338 145 sq km
Land area: 304 473 sq km
Water area: 33 672 sq km
Land boundaries
2 654 km
Coastline
1 250 km
Administrative division
Finland is divided into 6 provinces (

laanit

).
Political system
Finland is a republic. President is the chief of state and is elected by popular vote for a six-year term. Prime Minister, the head of government, is appointed by the President. Parliament (

Eduskunta

) is unicameral and has 200 members.
Population
5 244 749
Ethnic groups
Finn 93%, Swede 6%, other 1%
Religions
Lutheran Church of Finland 82%, Orthodox Church 1%, other 17%