COUNTRY INFORMATION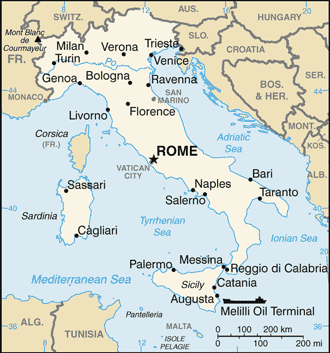 Official name
Italian Republic
Capital
Rome
Coordinates
42°50' N, 12°50' E
Location
Italy is located in Southern Europe on the Apennine Peninsula and shares borders with Slovenia on the northeast, Austria and Switzerland on the north and France on the northwest.
Area
Total area: 301 230 sq km
Land area: 294 020 sq km
Water area: 7 210 sq km
Land boundaries
1 899 km
Coastline
7 600 km
Administrative division
Italy is divided into 15 regions and 5 autonomous regions.
Political system
Italy is parliamentary, democratic republic. President is the chief of state and is elected by an electoral college for a seven-year term. President of the Council of Ministers (Prime Minister) is the head of government and is appointed by the president. Italian parliament consists of the Chamber of Deputies (630 members) and the Senate of the Republic (315 members). Members of the parliament are elected for a five-year term.
Population
58 145 320
Ethnic groups
Italian 93%, Sardinian 3%, other (French, German, Slovenian, Albanian) 4%
Religions
Roman Catholic 90%, other 10%