COUNTRY INFORMATION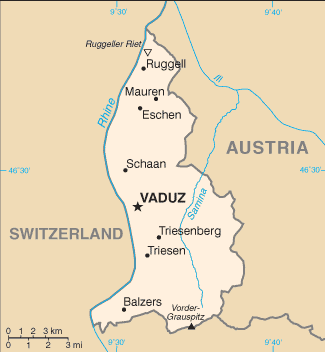 Official name
Principality of Liechtenstein
Capital
Vaduz
Coordinates
47°16' N, 9°32' E
Location
Liechtenstein is a landlocked country located in Central Europe. Liechtenstein shares borders with Switzerland on the west and Austria on the east.
Area
Total area: 160 sq km
Land area: 160 sq km
Water area: 0 sq km
Land boundaries
76 km
Coastline
0 km
Administrative division
Liechtenstein is divided into 11 communes.
Political system
Liechtenstein is a constitutional monarchy. Monarch is the chief of state. Monarchy is hereditary. Prime Minister, the head of government, is appointed by the monarch (usually the leader of the majority party). Parliament (

Landtag

) is unicameral and has 25 members.
Population
34 761
Ethnic groups
Liechtensteiner 66%, other 34%
Religions
Roman Catholic 76%, Protestant 7%, other 17%