COUNTRY INFORMATION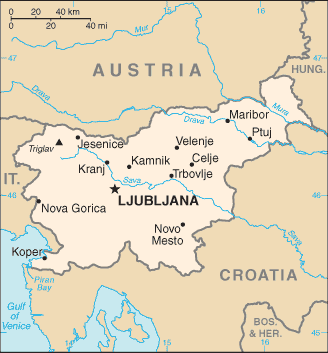 Official name
Republic of Slovenia
Capital
Ljubljana
Coordinates
46°07' N, 14°49' E
Location
Slovenia is located in Central Europe and shares borders with Italy on the west, Austria on the north, Hungary on the east and Croatia on the south.
Area
Total area: 20 273 sq km
Land area: 20 151 sq km
Water area: 122 sq km
Land boundaries
1 086 km
Coastline
47 km
Administrative division
Slovenia is divided into 182 municipalities and 11 urban municipalities.
Political system
Slovenia is a parliamentary republic. President is the chief of state and is elected by popular vote for a five-year term. Prime Minister, the head of government, is appointed by the President and elected by the Parliament (usually the leader of the majority party). Parliament is bicameral and consists of the National Assembly (

Drzavni Zbor)

with 90 seats and the National Council (

Drzavni Svet

) with 40 seats.
Population
2 005 692
Ethnic groups
Slovene 83%, Serb 2%, Croat 2%, Bosniak 1%, other 2%
Religions
Catholic 58%, Muslim 2%, Orthodox 2%, other 38%