COUNTRY INFORMATION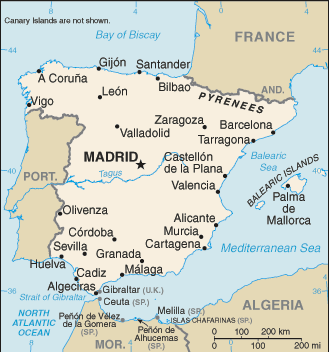 Official name
Kingdom of Spain
Capital
Madrid
Coordinates
40°24' N, 3°41' W
Location
Spain is located in south western Europe, on the Iberian Peninsula, bordering France on the north-east, Portugal on the west, the Bay of Biscay on the north, Mediterranean Sea on the east and Atlantic Ocean on the south-west.
Area
Total area: 504 782 sq km
Land area: 499 542 sq km
Water area: 5 240 sq km
Land boundaries
1 917 km
Coastline
4 964 km
Administrative division
Spain is divided into 17 autonomous communities (

comunidad autonoma

) and 2 autonomous cities.
Political system
Spain is a parliamentary monarchy. King is the chief of state. The monarchy is hereditary. President of the Government is the head of Government. Ministers are designated by the President. National Assembly (

Las Cortes Generales

) consists of the Senate (

Senado

) and Congress of Deputies (

Congreso de los Diputados

) and is elected every four years.
Population
40 491 052
Ethnic groups
Castilian 73%, Catalonian 18%, Galician 6%, Basque 2%
Religions
Catholic 94%, other 6%