COUNTRY INFORMATION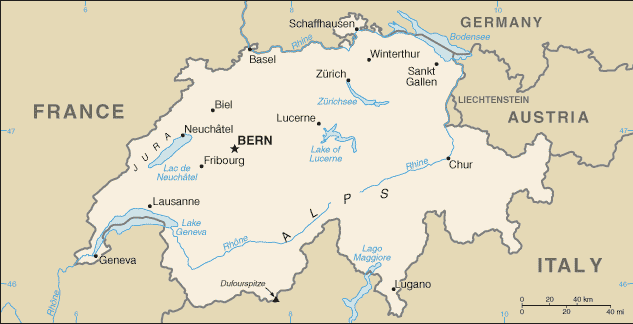 Official name
Swiss Confederation
Capital
Bern
Coordinates
47°00' N, 8°00' E
Location
Switzerland is located in Central Europe and shares borders with France on the west, Germany on the north, Austria and Liechtenstein on the east and Italy on the southeast.
Area
Total area: 41 290 sq km
Land area: 39 770 sq km
Water area: 1 520 sq km
Land boundaries
1 852 km
Coastline
0 km
Administrative division
Switzerland is divided into 26 cantons.
Political system
Switzerland is a confederation. President, the chief of state and the head of government, is elected by the Federal Assembly from among the members of the Federal Council (germ.:

Bundesrat

, fr.:

Conseil Federal,

it.:

Consiglio Federale

) for a one-year term. Federal Assembly (germ.:

Bundesversammlung

, fr.:

Assemblee Federale,

it.:

Assemblea Federale

) is bicameral and consists of the Council of States and the National Council.
Population
7 604 467
Ethnic groups
German 65%, French 18%, Italian 10%, other 7%
Religions
Roman Catholic 42%, Protestant 35%, Muslim 4%, Orthodox 2%, other 17%