COUNTRY INFORMATION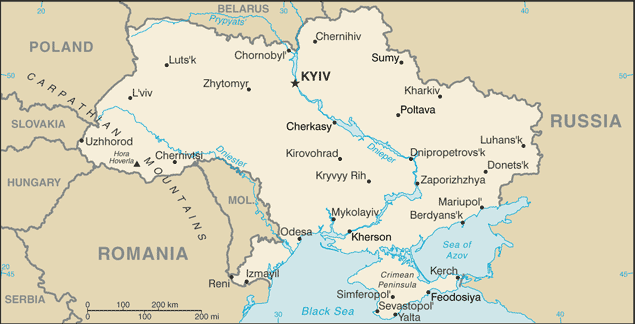 Official name
Ukraine
Capital
Kiev
Coordinates
49°00' N, 32°00' E
Location
Ukraine is located in Eastern Europe and shares borders with Romania and Moldova on the southwest, Slovakia, Hungary and Poland on the west, Belarus on the north and Russia on the east.
Area
Total area: 603 700 sq km
Land area: 603 700 sq km
Water area: 0 sq km
Land boundaries
4 566 km
Coastline
2 782 km
Administrative division
Ukraine is divided into 24 provinces, 1 autonomous republic and 2 municipalities.
Political system
Ukraine is a republic. President is the chief of state and is elected by popular vote for a five-year term. Prime Minister is the head of government. Parliament (

Verkhovna Rada

) is unicameral and has 450 members.
Population
45 700 395
Ethnic groups
Ukrainian 78%, Russian 17%, Belarusian 1%, other (Moldovan, Crimean Tatar, Bulgarian, Hungarian, Romanian, Polish, etc.) 4%
Religions
Ukrainian Orthodox – Kiev Patriarchate 50%, Ukrainian Orthodox – Moscow Patriarchate 26%, Ukrainian Greek Catholic 8%, Ukrainian Autocephalous Orthodox 7%, Roman Catholic 2%, Protestant 2%, Jewish 1%, other 4%