COUNTRY INFORMATION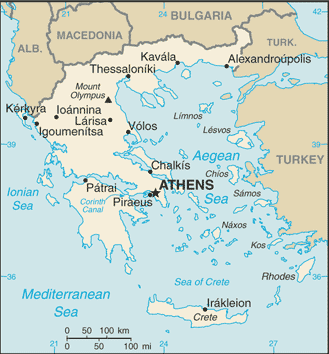 Official name
Hellenic Republic
Capital
Athens
Coordinates
39°00' N, 22°00' E
Location
Greece is the southernmost country of the Balkan Peninsula. The country shares borders with Albania, Macedonia and Bulgaria on the north, Turkey and Aegan Sea on the east, Mediterranean on the south and Ionian Sea on the west.
Area
Total area: 131 940 sq km
Land area: 130 800 sq km
Water area: 1 140 sq km
Land boundaries
1 228 km
Coastline
13 676 km
Administrative division
Greece is divided into 51 prefectures (

nomoi

) and 1 autonomous region.
Political system
Greece is a parliamentary republic. President is the head of state and Prime Minister is the head of government. President is elected every five years. Parliament is elected every four years and consists of 300 members.
Population
10 722 816
Ethnic groups
Greek 96%, other (Macedonian, Albanian, Turkish) 4%
Religions
Orthodox 98%, Muslim 1,5%, other 0,5%