COUNTRY INFORMATION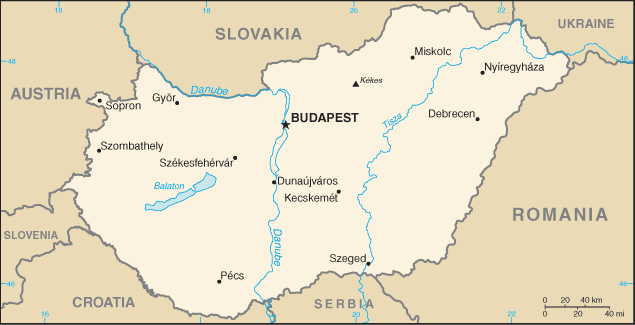 Official name
Republic of Hungary
Capital
Budapest
Coordinates
47°00' N, 20°00' E
Location
Hungary is a landlocked country located in Central Europe and shares borders with Slovakia and Ukraine on the north, Romania on the east, Serbia and Croatia on the south, Slovenia and Austria on the west.
Area
Total area: 93 030 sq km
Land area: 92 340 sq km
Water area: 690 sq km
Land boundaries
2 185 km
Coastline
0 km
Administrative division
Hungary is divided into 19 counties, 23 urban counties and 1 capital city.
Political system
Hungary is a parliamentary democracy. President is the chief of state and is elected by the National Assembly for a five-year term. Prime Minister, the head of government, is recommended by the President and then also elected by the National Assembly. The National Assembly (

Orszaggyules

) is unicameral and has 386 members.
Population
9 930 915
Ethnic groups
Hungarian 92%, Roma 2%, other 6%
Religions
Roman Catholic 52%, Calvinist 16%, Lutheran 3%, Greek Catholic 3% other 26%