COUNTRY INFORMATION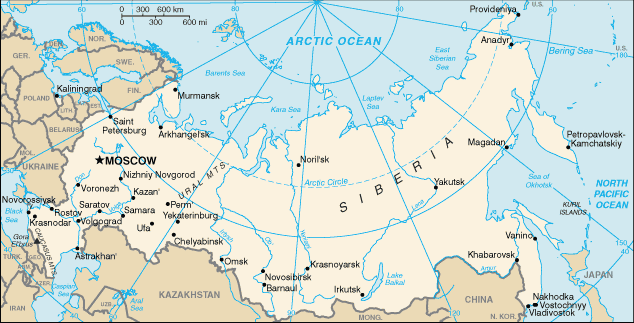 Official name
Russian Federation
Capital
Moscow
Coordinates
60°00' N, 100°00' E
Location
Russia is located in Northern Asia and partly in Eastern Europe (the area west of the Urals). In the European part Russia shares borders with Finland, Estonia, Latvia, Lithuania, Belarus and Ukraine.
Area
Total area: 17 075 200 sq km
Land area: 16 995 800 sq km
Water area: 79 400 sq km
Land boundaries
20 241 km
Coastline
37 653 km
Administrative division
Russia is divided into 46 oblasts, 21 republics, 4 autonomous okrugs, 9 krays, 2 federal cities and 1 autonomous oblast.
Political system
Russia is a federation. President is the chief of state and is elected by popular vote for a four-year term. Prime Minister (

Premier

), the head of government, is appointed by the President and approved by the Parliament. Parliament, the Federal Assembly (

Federalnoye Sobraniye)

, is bicameral and consists of the Federation Council (

Sovet Federatsii

) with 168 seats and the State Duma (

Gosudarstvennaya Duma

) with 450 seats.
Population
140 041 247
Ethnic groups
Russian 80%, Tatar 4%, Ukrainian 2%, Bashkir 1%, Chuvash 1%, other 12%
Religions
Russian Orthodox 20%, Muslim 15%, other 65%