COUNTRY INFORMATION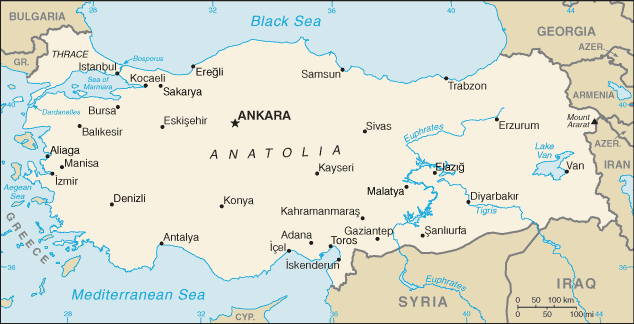 Official name
Republic of Turkey
Capital
Ankara
Coordinates
39°56' N, 32°52' E
Location
Turkey is located in southeastern Europe southwestern Asia and shares borders with Black Sea on the north, Georgia, Armenia, Iran on the east, Iraq, Syria on the south, Mediterranean Sea on the southwest and Greece on the northwest.
Area
Total area: 780 580 sq km
Land area: 770 760 sq km
Water area: 9 820 sq km
Land boundaries
2 648 km
Coastline
7 200 km
Administrative division
Turkey is divided into 81 provinces (

ili

).
Political system
Turkey is a parliamentary republic. President is the chief of state and is elected for seven-year term. Prime Minister is the head of government and is appointed by the president from among members of parliament. Parliament is unicameral – Grand National Assembly of Turkey (

Turkiye Buyuk Millet Meclisi

) and consists of 550 members.
Population
71 892 808
Ethnic groups
Turkish 80%, Kurdish 20%
Religions
Muslim 99,8%, other 0,2%