COUNTRY INFORMATION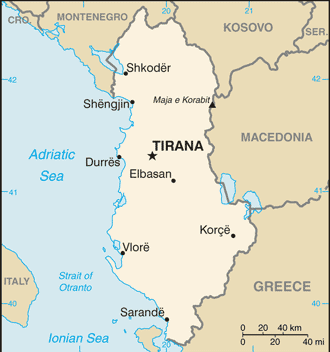 Official name
Republic of Albania
Capital
Tirana
Coordinates
41°00' N, 20°00' E
Location
Albania is located in southeastern Europe and shares borders with Montenegro and Kosovo on the north, Macedonia on the east and Greece on the south.
Area
Total area: 28 748 sq km
Land area: 27 398 sq km
Water area: 1 350 sq km
Land boundaries
717 km
Coastline
362 km
Administrative division
Albania is divided into 12 counties (

qarqe

).
Political system
Albania is a parliamentary democracy. President is the chief of state and is elected for a five-year term by Members of Parliament. Prime Minister, the head of government, is appointed by the president. Parliament (

Kuvendi

) is unicameral and consists of 140 members.
Population
3 619 778
Ethnic groups
Albanian 95%, Greek 3%, other 2%
Religions
Muslim 70%, Albanian Orthodox 20%, Roman Catholic 10%